Description:
Shalom and greetings all my pals,

The national government of Canada would like to thank all of you for participating in special discreet government mission evacuating non-essential Canadian diplomats and Canadian embassy staffs as well as their family members to safety in Japan far away from flashpoint in North and South Korea.

Now it is TIME for ANNUAL class two and three aircraft emergency landing refresher exercises using ONLY UNFAMILIAR TERRAIN where all of you will face challenges of new geographical areas while trying to execute emergency landings!!!!! The ANNUAL class 4-5 aircraft emergency landing refresher exercises will be next month.



CVA PRESENTING ANNUAL CLASS TWO/THREE AIRCRAFT EMERGENCY LANDING REFRESHER TRAINING



The purpose of this class 2 and class 3 emergency landing refresher training is to remember how to land big and full loaded class 2 and class 3 jet planes on 4,200 ft runway to stimulate emergency landing on very short runway in middle of nowhere such as Caribbean or Canada.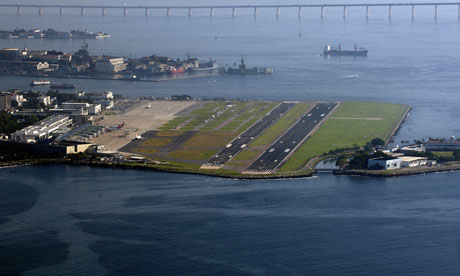 This is why Canadian virtual airline must comply with regulations of Civil Aviation Branch of Transport Canada and the national government of Canada that require all of you CVA pilots even the ATP Master pilots to undergo required ANNUAL emergency landing refresher exercises to keep all of you on tip-top alertness and ready to execute proper emergency landing procedures if needed ON VERY SHORT RUNWAYS.




PLEASE REMEMBER NOT NOT NOT NOT TO DECLARE EMERGENCY ON VATSIM. JUST EXECUTE PROPER EMERGENCY PROCEDURES BY YOURSELF ON VATSIM WITHOUT DECLARING EMERGENCY

As the site for class 2 and class three jet plane emergency refresher training, I have chosen SBRJ Santos Dumont Airport in Rio de Janeiro, Brazil especially this airport has nasty reputation for not only extremely short 4,200 ft runways BUT also for causing more fatal accidents than any other airport!!!! You job is to land on this airport without falling into water and how to take off from the airport's extremely short runway as if you are in middle of nowhere in Canada or Caribbean or Pacific rim or Alaska. This airport is considered one of 10 most dangerous airports in the world.




REMEMBER TO USE CLASS TWO AND CLASS THREE PLANES. If you use class one or class four/five planes in this refresher training, your PIREP will be rejected by CVA management.



You do not want to make mistake like this as seen below that happened at SBRJ airport!!!






All of you will hop on FULL LOADED CLASS TWO AND THREE planes (full passenger load, full luggage load, and appropriate fuel load) at SBBR Brasília–Presidente Juscelino Kubitschek International Airport in Brasília, Brazil and fly to SBRJ Santos Dumont Airport in Rio de Janeiro, Brazil to learn how to land on 4,200 ft runway without running out of runway to fall into waters. And then all of you have to learn how to take off from SBRJ Santos Dumont Airport using same full loaded weight for return trip to city of Brasilia!!



Make sure you do not do on very short airport runway like this as seen below!!






For the event starting this Saturday night April 20, 2013 at at 8:30 pm EST or 00:30z (pls check your local time zone) and this Wednesday April 24, 2013 at at 8:30 pm EST or 00:30z (pls check your local time zone), please use the following flights and their waypoints as seen below for those flights. Frank will create new routes on CVA database.

SBBR Brasilia to SBRJ Dumonto and its waypoints ISOPI CROWD UZ6 ARENA

SBRJ Dumonto to SBBR Brasilia and its waypoints ASGAT UZ3 MUDKA UM409 FLAND PROVE



MAKE SURE THAT EXOTIC SCENERY OF CITY OF RIO AND ITS BEACHES DO NOT DISTRACT YOUR ATTENTION FROM MAKING LANDING ON VERY SHORT RUNWAY!!!



CVA events should be like this on way to SBRJ




Have fun!!!!!

Regards,

Aharon